Transition effects
The transition effect feature of Honeycam creates more natural and smoother animated GIFs by adding a transition effect between its last and first frames that are repeatedly played.
Original animated GIF
Transition effects
An original animated GIF

Overlap
Fade to white
Fade to black
Flash
How to apply the transition effect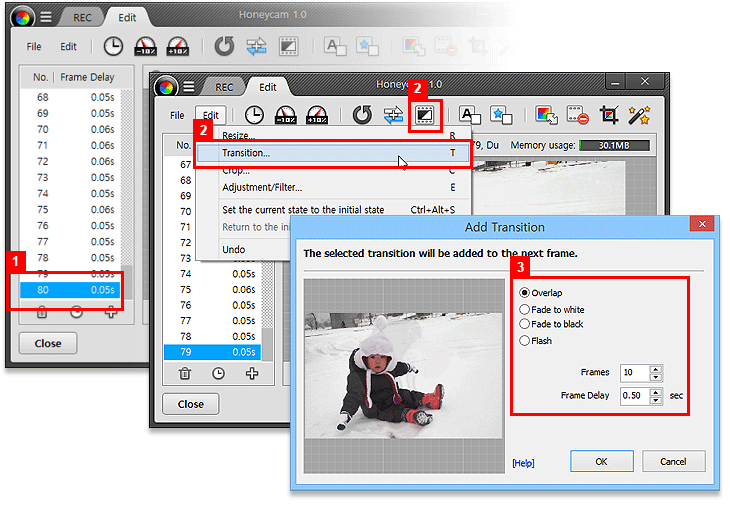 Select a frame: Select the frame right before where a transition effect will be added.
Add transition: Click "Transition..." menu or the "Add transition" icon.
Select a method: Select a transition effect. Click 'OK' after adjusting the frame settings.
Adjusting the settings - You can create a transition effect with the speed and impression that you want by adjusting the number of frames for a transition and the speed of transition frames.
However, if there are too many transition frames, you should ensure that the file size does not exceed your purpose as it may increase because of the increased total number of frames for a GIF.
Confirming and modifying transition frames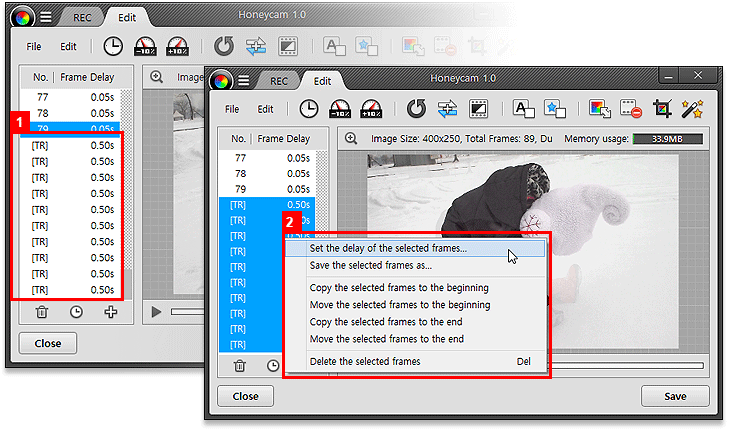 After applying a transition effect, you will be able to confirm that transition frames with the [TR] label are added under the selected frame.
Just like other image frames, time can be set up differently for these transition frames. You can also delete transition frames and apply different transition effects if you are not satisfied with the effect.
Multi-selection of transition frames
You can select multiple frames by selecting the first [TR] frame, pressing and holding the Shift key, and then selecting the last [TR] frame.
After you select multiple frames, the time for transition effect frames can be set up again or deleted altogether.